Datto - Business Continuity and DR
Datto SaaS Protection
Datto SaaS Protection helps you recover quickly from data loss in Office 365 or G Suite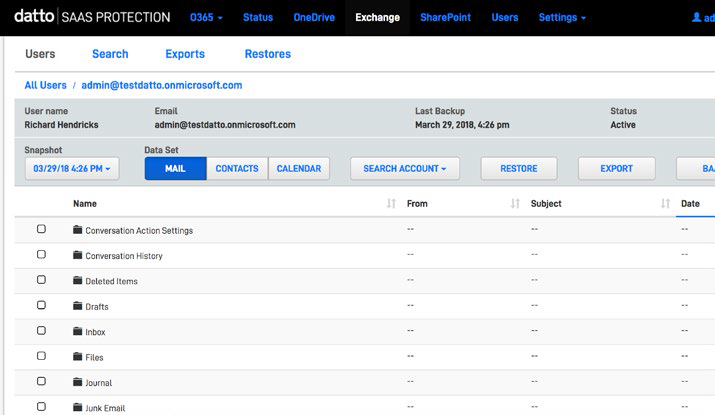 associated with accidental or malicious deletion, departing employees, external hackers
and ransomware attacks. Easy to use, automated, and secure at both the application and
infrastructure level, it's no wonder SaaS Protection backs up over 3.5 million users. Setup
takes minutes and point in time backups are created automatically across each users' apps
three times a day.

Why Do You Need Backup in the Cloud?
Today, 1 in 3 companies using SaaS applications have lost business-critical data, with 47% of
that data loss caused simply by accidental deletion. Businesses face a significant liability
if a user deletes or overwrites a file, an email, or a record unintentionally, or if an employee
leaves the company and takes their files with them.
As businesses increasingly move data into cloud-based applications, many think that Microsoft
or Google's native options are enough or that traditional best practices such as data backup are
outdated. While a SaaS application is always available, accessible from anywhere, and highly
redundant, it doesn't offer advanced protection against unexpected data loss.

Simple, Automated, and Secure backup of your cloud data
Datto's SaaS Protection backup and recovery solution unlinks your critical data from the
user who created it and the application environment, and hands control back to your
business. Engineered to be the one-stop-shop for SaaS application backup, SaaS Protection
delivers reliable and easy backups, speedy recovery, and secured data for your compliance
and regulatory needs.
Applications Supported: