DSRAZOR - Audit and document AD data - DBL Software
DSRAZOR gives you the ability to comprehensively audit and document your vital Active Directory data. When you Audit your Active Directory with DSRAZOR you can filter on almost any Active Directory attribute or combination of attributes. For instance, you might need to find all accounts whose password settingsdo not match your enterprise standard. Or, your auditor might need to know all objects that have Administrative privileges to your Active Directory.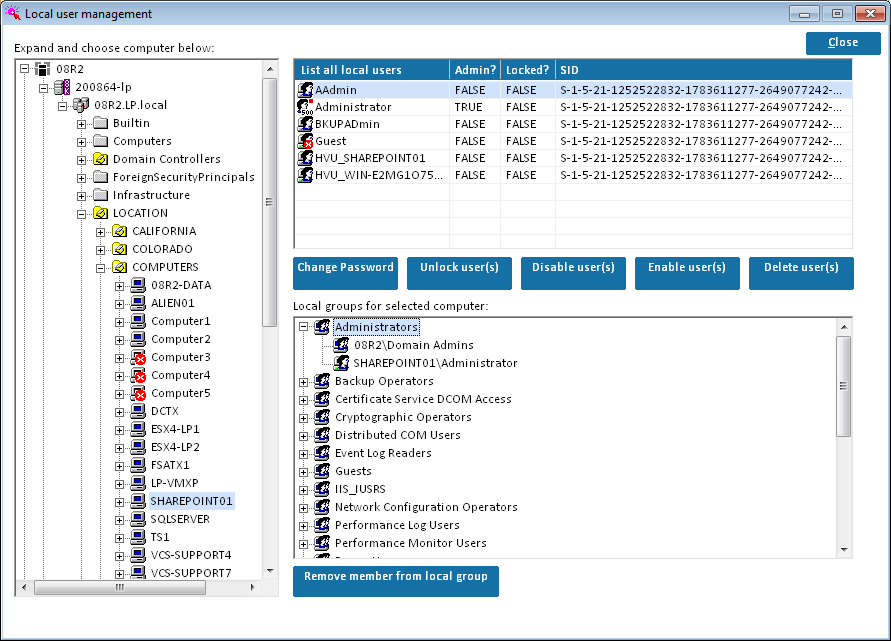 DSRAZOR includes the ability to run reports in "batch-mode". Ordinarily, reports run in a window on your desktop. For large reports you can use DSRAZOR's batch-mode which runs the applet on your desktop but does not take away from the use of your workstation for other duties.
DSRAZOR provides many ready-to-run applets to help you Audit and Document your Active Directory:
Active Directory Tools for Management, Reporting and Delegation
DSRAZOR will help simplify Active Directory user account management such as moving home directories, documenting everyday items such as Group Membership to determining who has access to a specific file or directory.
DSRAZOR's design is flexible enough to serve the needs of individual departments within your enterprise or for your enterprise as a whole.
On the Enterprise level, DSRAZOR provides many powerful services. For example, you can Audit access to your AD and Windows File Systems - discover what files a specific user account has access to, including permissions granted explicitly and inherited. Use DSRAZOR to find, correct, and document incorrectly formed user accounts and those that do not follow rules such as not requiring a password or allowing a password without an expiration date. DSRAZOR enables you to investigate and document your AD and Windows File System Security.
DSRAZOR for Windows presents users with AD admin tools for management, reporting and delegation. This useful application enables users to accurately connect with and modify Windows and AD software environments. AD management tools, will enable you to discover security weaknesses, document objects, manage attributes and delegate duties. DSRAZOR simplifies your role by supplying the administrative tools required to stay on top of AD and Windows file system management and reporting tasks.
Key Features
Active Directory user management
Active Directory reporting
Manage and audit NTFS permissions
Secure and document NTFS
Document users and groups
Setup/delete Active Directory users
Import and Export Active Directory Data
Query Active Directory Attributes
Change local admin password
Management tools for Exchange
Zero privilege helpdesk
HIPPA risk analysis
Easy installation