IDEAL Administration - Simplifies Windows admin - DBL Software
IDEAL Administration simplifies the administration of Windows Active Directory domains and Workgroups by providing all the necessary features for managing domains, servers, workstations and users in a single tool. Perform administration tasks like Active Directory management, remote control operation for Windows, Mac OS X and Linux, data migration or database inventories, via LAN, WAN, VPN or Internet.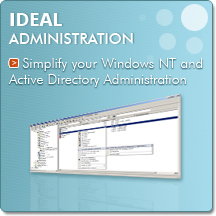 With IDEAL Administration you can manage your Active Directory domains and Workgroups, or browse them as easily as surfing the Internet!
IDEAL Administration is also, very competitively priced.
Key Features
Active Directory Domain and Workgroup management
Group Policy Objects inventory and management
Active Directory Explorere, Search and Editor
Manage Domains, VLANs and Workgroups via multi-tabbed interface
Active Directory Object Migration between Domains and Servers
User Account Password Migration From/To Any Windows Servers
Remote Product Key Recovery (Microsoft, Adobe, Pointdev, ...)
Remote Windows WMI Management
Remote Command Prompt Execution
Remote Settings for Computer Names and IP Addresses
Remote Control for Windows, Mac OS X and Linux Systems
Remote Windows UAC and Firewall Management
Remote Administration for Windows Servers and Stations
Automatic Inventory in HTML and MS Access or MS SQL Databases
Automatic and Planned Wake up of Computers (Wake On LAN)
Automatic Remote Control Agent Deployment
Chat, Screenshots and File Transfer during Remote Sessions
Quick Start Configuration Wizard
Licensing
One License by Administrator for an Unlimited Number of Managed Domains, Servers and Workstations. License is perpetual and includes one year software maintenance and technical support.
System Requirements
Active Administrator will run on the following platforms: Windows NT, XP, Vista, 2000, 2003, 2008, 7, 8 or 2012 Server.