IDEAL Alerter - Monitor and manage events - DBL Software
IDEAL Alerter monitors and manages defined events, applying a set of associated actions on network servers and workstations.
Use IDEAL Alerter to remotely monitor the execution and stop of processes, service status changes, registry database changes, event logs, changes on files and directories, user session events, manage disk space, detect installation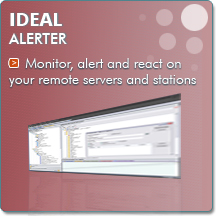 or uninstallation of programs.
Actions can be defined for each monitored event to automatically execute e.g. run a command or script, kill a process, uninstall a program, turning off a computer or lock a session, start or stop a service or send an email.
Features Monitoring of the following

Launch, stop, memory or CPU usage of processes.
Creation, deletion, launch, stop, pause or existence of services.
Session logon, logoff, lock or unlock of a user session.
Installed software, as well as next installations and uninstallations.
Disks, on their free space, as well as their used space.
Registry database, on keys and values consequently to a creation, modification or deletion.
Event logs (Application, Internet Explorer, Security, System).
Files and directories, based on the deletion, renaming, size modification, last access date, or write date.
Ddate/time or a scheduling based on a day of the week at a specific time.
Managed actions
Display a message on the target computer. User may answer.
Run a command.Uninstall: Enables to uninstall software.
Send an Email via SMTP.
Run a local or remote script file (.bat, .cmd, .exe, .com, ...).
Copy, move, delete, edit, print files and directories.
Local or remote installation of a Service Pack or Windows update.
Install, uninstall, fix or announce a MSI file (.msi).
Stop a process by its name or PID.
Stop or restart a service.
Write into the event log of the target computer the monitoring report of the event and/or a customizable message.
Close a session, restart, shut down, lock, put the computer into extended standby or cancel a stop action.
Reset, add, delete or set a number of points to the counter.
Run a local or remote VBScript file (.vbs).
Waiting Alert
Automatically set an alert to wait when an alert is scheduled and the installation phase has failed because of connection problems. Waiting alerts will be scheduled again when the systems reconnect to the network.
Application of filters
Predefined filters for OS version, OS type, version of Internet Explorer, Service Pack, processor, language, computer
Create your own filters from the registry. By default, a number of filters populated with registry data are included. A registry explorer is also included.
There is no limit to the amount of filters that can be applied.
Interaction between filters can be modified by creating a filter equation: Filter1 AND Filter2; Filter1 OR Filter2.
Filter testing can be carried out.
Key Features
Manage defined alerts on your Windows Domain and Workgroup
Alerts can de defined e.g. Folder, process, disk, event etc.
Actions can be applied to an alert e.g. display message, send email or record an event
Alerts are recorded in database
Can be installed and executed from a Workstation
One License by Administrator for an Unlimited Number of Managed Domains, Servers and Workstations