IDEAL Migration - AD migration tool - DBL Software
IDEAL Migration automates your Active Directory domain consolidation and migration.
With IDEAL Migration you will be able to migrate all server objects (OU, groups, users, files, ACL, etc.) from and to any Windows stand alone or Active Directory server, with the possibility also to automatically change domain client PCs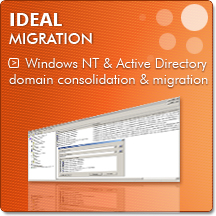 without intervention.
IDEAL Migration covers migration of 32bit and 64bit architectures.
IDEAL Migration does not require a trusted relationship between domains, nor does it require servers to be online to carry out a migration. Also the export and import of objects are carried out using CSV files. There files can be easily installed in a database, modified or even created manually if so desired.
Key Features
Huge saving on Migration Projects
User password migration with or without trusted relationships or between standalone servers
Object Exportation into CSV files to be Manually Modified before Importing
Migration Projects can be Scheduled and Executed from Command Prompt
Can be used with or without trusted relationships
Full Windows Active Directory Domain Migration and Consolidation
Client Station Migration to a New Domain While Preserving Profiles (local or roaming profiles)
Automatic Access Permissions (ACLs) translation for Files, Directories and Shared Folders
Stopped or Disconnected Server Migration
Windows Small Business Server (SBS) Domain Migration
Transfer of all NTFS file and directory permissions
SID History management
Roaming profile migration
Can handle one or more source domains
Can handle one or more destination domains
Copy user accounts with their password to any 32bit or 64bit systems
Move file and folder securities from one server to another
Move shared folders from one server to another