IDEAL Remote - Easy remote management tool - DBL Software
IDEAL Remote is more than a remote control tool, in addition it offers the capability to manage remote computers, registry, events, printers, processes, sessions, open files, WMI properties and finally to the information systems.
IDEAL Remote offers an inexpensive, easy and complete solution to for remote control of your Windows Servers and Workstations across the network.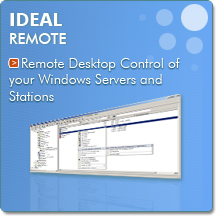 Remote control/management can be carried out via local network, WAN, VPN, or Internet.
Explorer-like graphical user interface with multi-tabs allowing quick access to all your Domains, Workgroups and VLANs. Recording of computer properties is stored in a database for display when offline or unreachable.
IDEAL Remote is compatible with Windows 32bit and 64bit architectures.
Key Features
Remote Control for Windows, Mac OS X and Linux Systems
Chat, Screenshots and File Transfer during Remote Sessions
Automatic Remote Control Agent Deployment
Remote Management For Windows Servers and Stations
Multi-tab Interface to Manage Domains, Workgroups and VLANs
Automatic and Planned Wake up of Computers (Wake On LAN)
Remote Settings for Computer Names and IP Addresses
Remote Windows WMI ManagementRemote Registry Management Remote Command Prompt Execution Intervention Management
Quickstart Configuration Wizard