IDEAL Secure- Remotely optimise and secure systems - DBL Software
Remotely optimise, secure and parameterise Windows operating systems (Server or Workstation) in a few clicks. Easily enable or disable a set of actions on a selection of computers in a single step.
IDEAL Secure manages the optimisation of network servers and client PCs through the application of predefined actions. These settings are classified by theme: Windows, Hardware, Network and Software.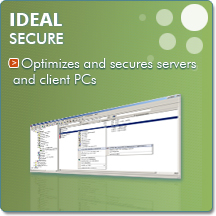 Remote application of predefined actions, without an agent
Selection of actions depending on the operating system
Network explorer for simplified selection of computers
Selection of available actions by theme or keyword
Automatic updating of actions over the Internet
Possibility of creating your own actions
Memorizing of favorite actions
Checking the state of actions
Possibility of canceling a series of actions (RollBack)
Maintenance of all logs
Simple, intuitive user interface
Key Features
All actions are classified by themes (Windows, Hardware, Network, Software) and sub-themes, all available actions can be searched by theme or keyword.
IDEAL Secure automatically selects the actions available depending on the operating system found.
Check the state (enabled, disabled or other) of actions on a set of computers in the network.
Shut down/Restart a computer remotely.
Store your "favorite" actions in a folder for fast access.
Search for updates automatically when the software is launched.
All logs of actions applied or cancelled are stored daily. These logs are used by the Rollback function.
Edit a computer's registry base remotely using a tool included in the software. Allows you to confirm a change or check the content of a registry key without needing to log on directly to the PC.
Network explorer can be used to display and manage all domains.
Application of actions remotely and without an agent.
Ability to cancel and RollBack actions easily.
Create your own actions using an action editor. An assistant guides you through the process.