Ironscales - Anti-phishing threat protection - DBL Software
Secure The Mailbox. Not Just The Email Server! with Ironscales Best Of Breed Anti Phishing Threat Protection.
Office 365 missed 34,000 phishing emails spanning September through October 2017 - Dark Reading

Get the next generation in anti phishing protection with IRONSCALES, the world's first automated phishing prevention,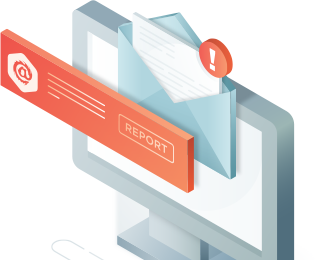 detection & response platform.
One Platform To Solve Each Of The Major Phishing Problems (BEC, APT & Ransomware)
Mailbox-Level Anomaly Detection
IronSights utilizes mailbox-level anomaly detection combining human input and machine learning algorithms to analyze employee's mailbox behavior to protect against hyper-targeted attacks such as Business Email Compromise.
Automated Phishing Incident Response
Provide small or overburdened security teams with automated forensics & incident response capabilities.Empower employees with better tools to report phishing emails that bypass detection.
Automated Real-Time Intelligence Sharing
Share zero-day, human verified, phishing attacks instantly and automatically across companies. Proactively respond to zero-day attacks automatically.
Phishing Awareness Training
Enhance email phishing detection by building a human intrusion detection system. Short gamified, interactive and individually tailored phishing training.
Key Features
Two-click deployment
Replace or supplement your current email security solution (cloud/on-prem).
No MX record changes required.


Post email delivery threat detection
Mailbox anomaly detection based on a patented contextual and human behavioral analysis.
Leveraging the human element to increase detection of highly targeted phishing emails.


Orchestrating email forensics
Automated forensics for anomalous and user reported emails. Leveraging the best AV and Sandboxing engines.


Automatic remediation
Zero-minute remediation from all infected mailboxes, including smart detection of polymorphic emails.