NETconsent - policy management lifecycle - DBL Software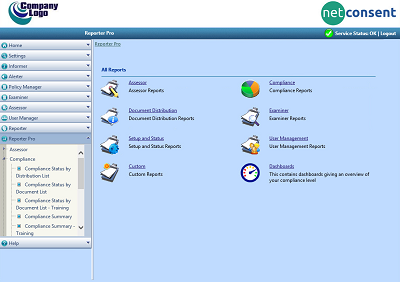 NETconsent Compliance Suite has all the essential elements required to deliver a pro-active and sustainable approach to the policy management lifecycle. Out-of-date and irrelevant policies that lead to organisationalconfusion, poor practice and costly errors are eliminated through systematic automation.
Regular communication, monitoring and enforcement of policies and procedures becomes effective and manageable.
NETconsent Compliance Suite delivers a pro-active and sustainable approach to handling the policy management lifecycle and other supporting documents. This datasheet reviews how NETconsent addresses the following issues:
The human factor
Risk mitigation
Overcoming organisational boundaries
Sustainable governance
Anytime anywhere protection
Network integration & inter-operability
Key Features
Multiple Document Types (e.g. Policies, Procedures, eLearning, Standards, Guidelines etc.)
Associated Documents - Cross reference documents that relate to one another (e.g. Policies to Procedures)
Document Life-Cycle Management & Full Version ControlMulti-Lingual Support
Standards Mappings & DashboardDirect Content Presentation
Microsoft SharePoint IntegrationAbility to perform sanctions on user Decline
Randomized test questions and ability to target all or only a subset of users
Advanced SearchExtended Reports
Poll opinions, undertake assessments & surveys (Enterprise Edition)
Risk reporting (Enterprise Edition)
User communication, delivering messages direct to user's (Enterprise Edition)
User awareness, distribute important educational and informative information (Enterprise Edition)
Docs
Please create a menu item for the DOCman List Menu Type (All Categories), otherwise DOCman List won't be able to create URLs properly.
System Requirements
NETconsent Policy Server
Microsoft Windows Server running Internet Information Server
Microsoft Windows 2008 SP1 + (inc. 2008 R2)
Microsoft Windows 2012 + (inc. 2012 R2)

Network
Microsoft Active Directory
Novell eDirectory
Other standard LDAP Directory

Database & Reporting
Microsoft SQL 2005* running SSRS
Microsoft SQL 2008* running SSRS
Microsoft SQL 2012* running SSRS
Microsoft SQL 2014* running SSRS
Supported Workstations
Microsoft Windows

Microsoft Windows 2000 (SP4) +

Microsoft Windows XP

Microsoft Windows 7

Microsoft Windows 8 & 8.1

Microsoft Windows 10

Apple Macintosh OS X+
Supported Browsers
Internet Explorer 8+

Firefox 3.5+

Google Chrome