Uniprint Infinity - print solution for any IT environment - DBL Software
UniPrint Infinity is the industry's original printer-vendor independent managed print solution for any IT environment. Based on UniPrint's patented PDF-based Universal Printer Driver and Virtual Print Queue, UniPrint Infinity simplifies printer management and enables anywhere, anytime, any device secure pull printing across different platforms, offices and geographies.
In addition, Uniprint Infinity also provides a proven ROI through its statistics module, virtual print queue print technology and document archiving functionality.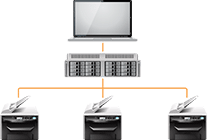 Secure Pull Printing - Uniprint Infinity presents dual print security through PDF encryption and user authenticated pull printing, attributed to UniPrint's patented, PDF-based Universal Printer Driver and innovative Virtual Print Queue.
UniPrint Infinity vPad - is a multi-purpose network print appliance which enables dual print security through PDF encryption and user-authenticated pull printing, whilst the Uniprint Infinity printing software is being used. It can also replace print servers in remote locations and, by allowing print stream compression, solves remote printing bandwidth issues that frequently occur with print server centralisation initiatives.
PrintPal - a printer mapping utility that enables network administrators to create rules and assign printers to specific user profiles with ease. This advanced feature of Uniprint Infinity PrintPAL ensures that users are assigned with the right printer at all times, whenever and wherever they are working.
Printer Profiles - another advanced feature of the Uniprint Infinity printing solution. The Printer Profiles utility enables IT administrators to create profiles per printer or driver. The profiles can contain a single or group of special settings which can be applied when a user prints. This feature enables customers to move to a universal printer driver solution without losing the advanced printer properties of multifunction printers.
High Availability Module - to ensure maximum print service up time and eliminate any single point of failure, this function (HA) Module can be set up to provide full redundancy.
VPQ Connector for Xerox MFPs - enables smooth integration of the UniPrint Infinity Virtual Print Queue (VPQ) technology with Xerox Extensible Interface Platform (EIP) compatible multifunction printers (MFPs). This enables users to release print jobs securely and on demand to any printer anywhere. Thuse saving the company money, by reducing energy expenditures and improving security.
Connecting to the UniPrint application server, a user prints from any application. UniPrint then encrypts and converts the print data into PDF, which compresses the print job by as much as 90%. This results in reducing bandwidth utilisation and enabling faster and more reliable print job transmission. The print job can then be "pulled" by the authenticated user and print to any selected printer. For added security, a password-protected secure PIN can be added to the print job.