Webroot Secure Anywhere - Lightest and fastest AV - DBL Software
Webroot SecureAnywhere (WSA) is the lightest and fastest AV in the market
Webroot utilises a true cloud architecture enabling the client to be extremely small (just 700Kb in size, fully installed 20Mb) and efficient, installs in 6 seconds and scans in <2mins on avg. Because all Malware data is stored in the cloud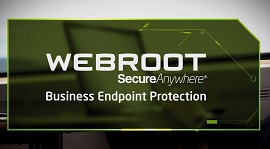 there are no management servers to install and once deployed the client keeps itself permanently up to date, negating the need constantly update from one version to the next. Webroot Secure Anywhere can co-exist with other AV products so it is fine to deploy alongside another AV using active directory (or any software deployment tool) to deploy the client. Webroot's unique journaling and rollback technology takes a novel approach to detecting Malware by keeping a change journal of any modifications to your system made by unknown files so that it is possible to perfectly remediate damage caused by unknown Malware. The journaling and rollback feature works in conjunction with the outbound firewall which prevents unknown applications from communicating and renders them useless. Webroot also includes the market leading Identity and Privacy shield (as used by the leading banks, which protects internet sessions but can be set to protect any application in your environment from targeted Malware like a keylogger.
Key Features
Onlime Management Portal
750KB client installs, scans and protects in seconds
No large signature updates or deffinition files
Single Agent covers all Operating Systems
No conflicts, will even run alongside any other AV software.
Complete User Agent Policy Controls and Protection
Browser identity and privacy shield
Android and iOS Protection included
Web Gateway protection included
The Webroot® Intelligence Network (WIN) continuously collects, analyzes and correlates threat data, ensuring your protection stays on.